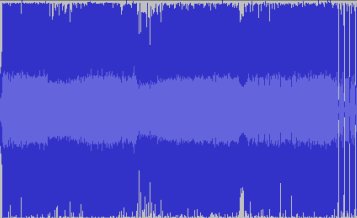 This happy little nugget is from the new Tool record. A friend bought me a copy for my birthday, and I have to say, it's quite good. Listening to it through headphones, I noticed the drums (Danny Carey is a wonderful drummer, BTW) sounded "mushy," particularly the snare. The decay on the cymbals was muted as well.
I went ahead and ripped it, which was no small feat, since the CD is copy-protected. Thank goodness for Linux and cdparanoia. My hatred for copy-protection is a whole other topic, but I did think these CD's were supposed to me marked in some way…
Anyhow, the above snipped (click image for detail) is the waveform from "Vicarious." Smashy, smashy! Not only is the whole thing hard-limited at -1.7db (the slight artificial headroom at the top margin), but it still clips. Peak levels for a good recording should be around -9db.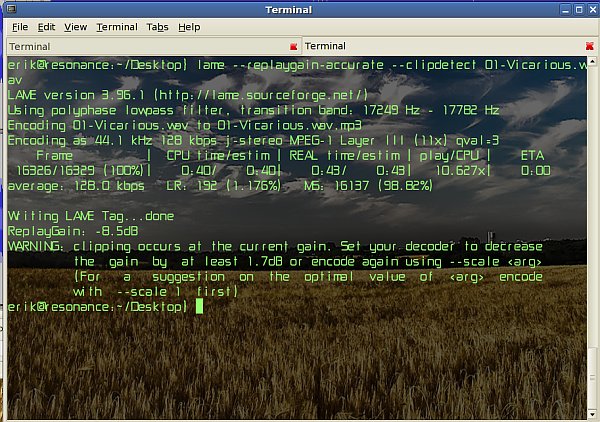 The ReplayGain value is an indication of how many decibels the track would have to be reduced by to fit an 89db industry standard, in this case 8.5. Lovely.
Surprisingly, the record doesn't sound "bad," just a bit muffled in spots. Trust me, it's not the worst out there. More and more, it appears that these levels are just part of a new industry "standard."
IT'S THE MEDIA INDUSTRY'S WAY OF GETTING ATTENTION AND SOUNDING "EXTREME." APPARENTLY, THAT'S THE WAY AMERICANS LIKE TO CONSUME THINGS THESE DAYS: LOUD, OBNOXIOUS AND UTTERLY DEVOID OF SUBTLETY OR NUANCE. IT'S THE AUDIO EQUIVALENT OF WRITING IN ALL CAPITAL LETTERS. IF YOU'RE GETTING EDGY READING THIS, IT'S BECAUSE PSYCHIATRISTS HAVE SHOWN THAT READING IN ALL-CAPS IS MENTALLY EXHAUSTING. WE NEED VARIATION AND FLUCTUATION.
Oh, quit bitching, I could have written that last paragraph using the "blink" tag.
My point is, that's the typographical equivalent of music presentation these days: loud and monochromatic. It sounds good through car speakers or over the din of a busy club, but throw on headphones, and it's just exasperating and ultimately frustrating.
(Just for comparison, here's the waveform for "Shout," from Tears for Fears' Songs from the Big Chair. This is a loud song, and altough you might need to crank the volume a few notches to match Californication, the soundstage is wide and bright, with plenty of "oomph" and clarity.)