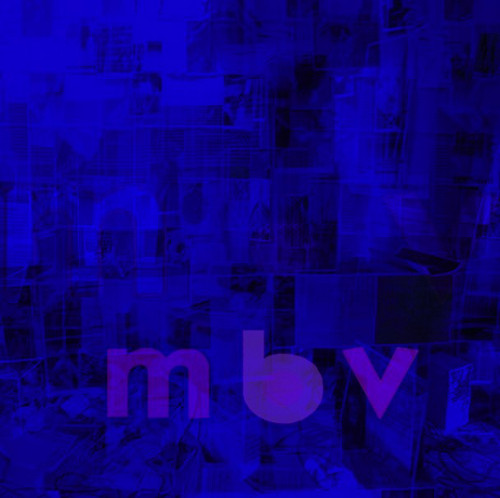 1991 was a mixed bag in music.  KLF was at the top of their subversive game, the Pixies really began to slip, and a few bands out of Seattle were starting to make waves. What were the Brits doing? Jesus Jones and Carter the Unstoppable Sex Machine. Things were tough back then. We had beepers for heaven's sake.
My Bloody Valentine had been critics' darlings over several singles and one intriguing album of off-kilter pop music, and their live shows became notorious for being punishing, abrasive affairs. They gained some notoriety in the States, then disappeared into the studio to do a follow-up record. Two years and $250,000 later, they released Loveless, now considered a cornerstone in modern music.
Stunning as Loveless was (and still is), it would take Kevin Shields 21 years to deliver a follow-up. Last November, Sheilds promised that the new album would be released before the end of the year. Considering that we'd been hearing this since, oh, 1996, I wasn't holding my breath. Without warning, he announced Saturday afternoon that the album would be released through their website, which promptly crashed. Thus far, there appears to be no retail distribution, so that's the only way to get it.
So, is it any good? Yeah. Yeah, it actually is.
Shields is one of the few folks in the music industry whose talent actually matches his sheer audacity. He wasn't content to play in a shoegaze band; he felt he had to redefine the genre, and in the process, he rendered it largely obsolete with one record. Loveless was the spark that pulled Bob Mould out of whatever funk he was in, and its fingerprints are all over Siamese Dream. Countless acts would attempt to co-opt his sound, and some sought to expand upon it in unique ways.
Needless to say, following up a record like that carries certain expectations. The surprising thing is the extent to which he's met them.
I'll be honest. I cued this up expecting Loveless, Part II. Most listeners will. To that end, the new record does open with something of a red herring. "She Found Now" starts like one of the quieter moments in Tremolo. It's not the overwhelming statement of purpose that "Only Shallow" was, but this really isn't a record concerned with treading worn ground. It still sounds like My Bloody Valentine (and like Loveless, it appears to have been recorded mostly in mono), but the instrumentation is more spacious and individual parts are more distinct.
"Only Tomorrow" and "Who Sees You" follow in a similar vein, but the central third of the record belongs to Bilinda Butcher. "Is This and Yes" is an odd piece that consists entirely of her vocals over a sparse organ accompaniment. While it might have been an interesting interlude, it wears its welcome out over five minutes.
"If I Am" is far more interesting, the closest Shields and Butcher have come to an actual pop song since Isn't Anything. The fog lifts a bit, and individual guitar parts are more distinct. "New You" could almost be a Saint Etienne song but for Butcher's oddly harmonized vocals.
"In Another Way" kicks off the last third of the record with an abrasive drum loop that settles into the background while Butcher's vocals take the foreground. "Nothing Is" punishes the listener with three minutes of a monotonous drum loop, and its place on the record appears to be to build momentum for the closing track.
I could describe what "Wonder 2" sounds like, but that's only half of the story. What if feels like is a tribute to "Eight Miles High," but in purpose rather than execution. In a way, I always got the impression that song was nagging Shields' subconscious, and here he seems to find a 21st century equivalent to it.
This is a record of extreme polarities. It bounces from abrasion and consonance and back, and though it's rougher around the edges and less consistent than Loveless, it holds together nicely by its own logic. The biggest surprise is that Shields can make it relevant in 2013.