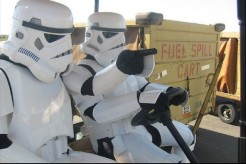 The American Silencer Association met with the ATF yesterday, and this is what we know about the proposed rule change:
There were 9500 comments, 1000 of which were rejected for "vulgarity, anonymity, or non-applicability." (Thanks for the Obama Kenya Nazi thing, Joe Bob)
The ATF has to respond to every comment in writing. This means, even if they decide to go ahead with the rule change, it will be at least six months to a year before it takes effect.
We don't know if Forms 1 and 4 already in process will be affected. Based on history, the ASA thinks not.
Nonetheless, wait times are averaging 9-10 months right now. It would be a good idea to get those applications into the pipeline sooner rather than later.
The NFATCA are the folks who got us into this mess in the first place, and they have a table at SHOT Show this week. If you happen to be there, stop by and thank them on behalf of all the people whose lives they've made harder.