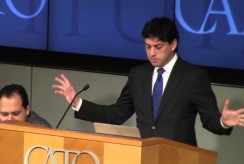 The big news today is that the Supreme Court declined to hear three cases involving gun rights. The first was NRA v. ATF, a challenge to 18 U.S.C. § 922(b)(1), which prohibits licensed dealers from selling handguns to individuals under 21 years of age. The second was Lane v. Holder, which challenged the requirement that handguns be purchased in one's home state.
The third was NRA v. McCraw. At issue was Texas law, which denies a license to carry a pistol to anyone under the age of 21. To answer the central question of the case, the Court would have to rule whether the right to keep and bear arms applies outside the home.

So, does their refusal to grant cert mean the issue is dead? No. These were good cases, but none of them was the right case.
The Second Amendment Foundation and several others have been bringing another set of cases on the matter in the lower courts for three years now. We've lost in three Circuits and won in two. All five decisions were important because they set up a split between the lower courts that the Supreme Court can't ignore. In technical terms, it's called strategery.
Last week's win in the 9th Circuit directly contradicts the 3rd Circuit's ruling in Drake v. Jerejian (formerly Drake v. Filko). The latter case is up for consideration by the Supreme Court as we speak, and it's being run by Alan Gura. Gura represented us quite well before the Supreme Court in Heller and McDonald, and he cleaned the floor with the opposition in Ezell v. Chicago. 
I've got a feeling this is the situation the Supreme Court was waiting for, and we've got the right guy on the job.