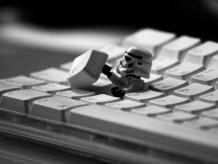 A year ago, the President advanced a number of regulatory proposals on gun control. One of the more esoteric ones involved changing the way trusts are handled in regards to NFA firearms.
The original action date was to have been last June, but the BATFE was deluged with comments. While action appeared to have been pushed back to 2015, the Bureau has recently published a draft form [pdf].
Essentially, any "responsible party" of a trust or corporation must now file this form and seek approval from local law enforcement. That approval is impossible to obtain in many areas.
The BATFE stands to gain nothing. They're saddled with the paperwork, but it doesn't generate any revenue. As such, I doubt they'll hire on more examiners to address the workload. The end result will be an exponential growth in wait times for NFA approvals across the board.
There's no saying when 41P might be enacted, but I wouldn't be surprised if the administration wants to rush this one in before the midterms so they can show some success on gun control.