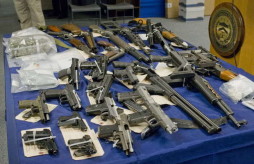 Oregon recently passed a bill to mandate so-called universal background checks on private transfers of firearms.  One of the arguments we've made against the concept is that it will result in the creation of a gun registry.
This isn't just a "slippery slope" argument.  The only way to enforce background checks on private transfers will be to know who had the guns before they were transferred.  That entails a registration.  Supporters of this legislation claim we're full of hot air.
Well, it looks like that's exactly what's happening in Oregon.  Background checks are done on the state level there, and their system has been amended to require information on the transferor as well as the recipient.
The federal NICS system must purge all information on a check within 24 hours of a resolution.  It must be emphasized that this is not the case in Oregon.  According to the bill itself:
The department may retain a record of the information obtained during a request for a criminal background check under this section for the period of time provided in ORS 166.412 (7).
According to section (7)(a), that period is five years.
Furthermore, the seller is required to keep a copy of the state firearms transfer record for an unspecified period. Federal law requires dealers to retain their forms for a minimum of 20 years, and there are strict rules about the custody and release of those forms.  I see no such safeguards under Oregon's law.
What's the concern?  If I buy a gun in a private sale in Oregon, I'm filling out a form with enough information to make identity theft a trivial task, and I'm leaving it in the hands of someone who could easily lose or sell it.
So, yes–this is registration on the state level, and there's a very real problem with the way the paperwork is handled.