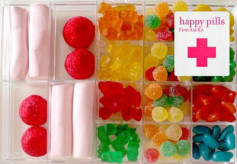 In the wake of this week's mass shooting, we're going to hear calls for more background checks.  This, despite the fact the shooter underwent and passed several background checks when he purchased his guns.  This, despite the fact that Oregon passed more strict background check legislation only a couple of months ago.
Background checks don't stop these tragedies.  With the exception of Newtown, every mass shooter in the last two decades has purchased his weapons at retail and passed a check.  The lack of a deterrent effect is obvious.  Any other social policy that has failed this utterly would have been abandoned by now.
Of course, whenever I point this out, it's implied that I'm somehow obligated to provide a solution.  Well, OK.  Here's one that might actually help.
In 2013, Dan Roberts conducted a study on mass shooters.  Every single one of them had been on Selective Serotonin Re-Uptake Inhibitors. That category includes the ever-popular drugs like Zoloft and Prozac.  We hand them out for everything from generalized anxiety to sexual dysfunction.
So, here's my idea.  Any time a doctor prescribes one of these drugs, he must report it to law enforcement.  If the patient wants to own a gun, he has to show proof of a psychiatric evaluation.  While he's on SSRI's, he has to take further periodic evaluations.  If he doesn't comply, he's disqualified from possession until he's either off the drugs or resubmits.
Parents who'd rather dope their kids up than raise them correctly have a choice.  If they have a child on these drugs, they must ensure he's current on his evaluations.  Otherwise, they don't get to keep guns in the house.
The gun control lobby will scream discrimination.  Tough noogies. The dangerous side effects of these drugs are well documented.  Though we've yet to establish a causal relation to mass shootings, the correlation is impossible to discount.
That, or we can keep trying the same thing over and over again, expecting different results.  There's a word for that.