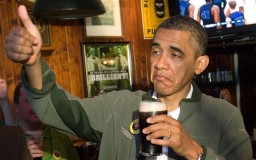 The President has announced that he's seeking to enact new controls without the cooperation or consent of Congress. I understand how this could be worrying on the surface.
The thing is, he really can't do that.  I've written about this before.  Whatever murky construct they may be, executive orders can't be used to enact or alter laws.  The chief executive doesn't have that power, and for very good reason.
It's unsettling that this President has repeatedly and publicly stated a desire to bypass our system of checks and balances.  Regarding economic relief in 2011, he said,
We can't wait for Congress to do its job. So where they won't act, I will.  We're going to look every single day to figure out what we can do without Congress.
Statements like that should be chilling to anyone, regardless of political affiliation.
With that said, we haven't seen the actual orders yet.  The main one rumored will redefine or tighten the definition of a "dealer" in firearms.  The existing definition under 18 U.S.C. § 921(a)(11)(A) is a bit ambiguous:
as applied to a dealer in firearms, as defined in section 921(a)(11)(A), a person who devotes time, attention, and labor to dealing in firearms as a regular course of trade or business with the principal objective of livelihood and profit through the repetitive purchase and resale of firearms, but such term shall not include a person who makes occasional sales, exchanges, or purchases of firearms for the enhancement of a personal collection or for a hobby, or who sells all or part of his personal collection of firearms
Principal objective and occasional sales can be hard things to clarify.  Are twenty guns a year occasional?  Ten?  Five?  One?
The President must know this will trigger a legal challenge, and I can't imagine the Supreme Court upholding it as constitutional.
So why is he doing it?  My best guess is that he wants to be seen as doing something near the end of his term.  A court challenge could take a couple of years, by which time he'll be out of office.  It's a cynical sort of political calculus, but it will appease the gun-control lobby in the short term, and he thinks he'll be fondly remembered for it.
The real historical lesson here should be his eagerness to abuse powers the Constitution never meant for him to have.