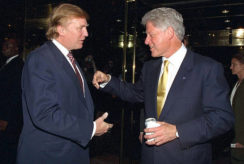 I'm sick of the manufactured outrage this election.  The American public was fully aware what kind of people both Presidential candidates were when we nominated them.  We have only ourselves to blame.
Let's be honest and stop with the fist-waving and name-calling.  We relinquished that right with an enthusiasm and abandon that should trigger nothing but shame in retrospect.
Donald Trump is, for lack of a more articulate adjective, an asshole.  He's the spoiled rich kid, the bully, the fraternity jock who hopes a comely cheerleader will get drunk enough not to remember who took advantage of her in the morning.  The evidence of his disdain for nonwhite elites is apparent to anyone who knows how to use Google, and it always has been.
Those who voted for him in the primaries should have known this.  The only explanation is that we're truly desperate or that we chose to disregard that in favor of bumper-sticker slogans.
The Left doesn't get a pass.  To them, Trump is a blessing.  Hillary Clinton should get on her knees every morning and thank whatever higher power she believes in that she has him for an opponent and not a competent politician.  Let's be honest: in their backrooms and meetings, her campaign staff celebrates every time some woeful piece of his past comes to light.
So does the press.  When a new bombshell drops, they high-five each other.  When the cameras roll, they smooth their jackets, put on an air of righteous indignation, and pretend to be appalled.  If they had a shred of integrity, they'd admit they are absolutely loving this.
The fireworks have an ancillary effect of distracting the public from what an awful politician and human being Hillary Clinton has been.  Is it really coincidence that Trump's soap opera comments fell into the hands of CNN the same day transcripts of Clinton's Wall Street speeches were leaked?  Really.  Come on.
I remember the 1990's.  I remember when Ms. Clinton did her best to discredit and slander the women her husband abused.
I remember when she urged him not to intervene in the Bosnian genocide because it was potentially "a Vietnam that would compromise health care reform," which was Ms. Clinton's pet project at the time.
I remember her full-throated support for the 1994 Violent Crime Control and Law Enforcement Act, which increased our minority prison population by 60%.  If there's a candidate who should be pilloried by criminal-justice reformers, it's not Trump.
Then there's the whole issue with the personal email server.  Petty Officer First Class Kristian Saucier could face up to thirty years in prison for mishandling classified information, even though there is no evidence he planned to share it with anyone outside the chain of command. Clinton did the exact same thing, but on a larger scale, and for a longer span of time.  She got a pass from the FBI because there was no evidence she meant any harm.
The double standard, and the obvious fact that the FBI investigation was managed by the administration, doesn't seem to bother anyone, least of all her supporters.
Why?  Because they believe her personal reinvention as a "progressive," or because they simply "want to see a woman President."   To this end, they voted for her despite the fact she's pretty much the monster Trump is.  His crime may be that he's an incompetent and awful person, but hers is naked corruption.
So, here we are.  Both choices are wretched, but let's at least show some sliver of honesty.  There were other candidates, but this is what we chose.  Voting has its consequences.  Not voting has its consequences.  We get the government we deserve, and in 2016, this is apparently it.