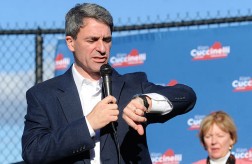 Ken Cuccinelli had all the answers the Tea Party wanted to hear, but he couldn't win the governor's spot in Virginia. The why of it is something the Republican party has to grasp if they hope to retain any relevancy.
The first mistake? Relying on NRA ratings. Democratic opponent McAuliffe has an F grade from the organization and he doesn't care. In a debate at Virginia Tech two weeks ago, he said he was "fine" with it, adding "I'm not running to be president of the NRA. I'm running to be governor of Virginia." The takeaway? That isn't enough to tank a candidate in a swing state like Virginia.
The second was overestimating voter anger at the Affordable Care Act. The traditional math says that everybody hates it, but they don't seem to hate it enough at the ballot box. Republicans seem intent on running against the ACA as a strategy, but that's only going to be a relevant issue for next year's midterms. After that, they have to forge a vision that isn't based on running against the Obama administration.
The third and most glaring mistake was the choice of Cuccinelli as a candidate in the first place. Yes, he checked all the right answers on the conservative scorecard. He's pro-life, he doesn't like the gays, and he's big on family values. In fact, his running mate believes that yoga opens the soul up to Satan. In short, that's a platform that's conservative enough to appease the ideological base, but it scares the living bejeezus out of moderates.
If the Republican party is to survive, they need to move closer to the center and starve off the Tea Party. As Chris Christie said in an interview with Jake Trapper:
Sometimes, I feel like our party cares more about winning the argument than they care about winning elections. And if you don't win elections, you can't govern.
That's from a guy who actually won an election. In fact, he won by 22 points as a Republican in a staunchly blue state. Folks might want to listen, because he's going to be the guy running against Clinton in 2016. The last few years of flag-waving were quaint and all, but conservatives need to put away the tri-corner hats, swallow their pride, and support someone who actually has a chance of getting nominated.