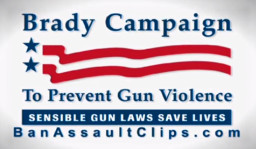 A group of families, organized by the law firm of Koskoff, Koskoff & Bieder, is planning to bring a wrongful death suit against Bushmaster Firearms because one of the company's rifles was used in the Sandy Hook shooting. In theory, such a lawsuit would be forbidden by the Protection in Lawful Commerce in Arms Act. In practice, it's not as clear.
A Bushmaster rifle was also used in the 2002 DC Beltway shootings. The Brady Campaign brought suit against them, and the company eventually settled. Doing so set a terrible precedent, and the lawyers smell blood in the water.
Koskoff, Koskoff & Bieder has taken a keen interest in product-liability lawsuits against gun manufacturers, and their campaign contributions run a close parallel to those of the Brady Campaign. I expect to see a statement from the latter supporting this in the coming days.
BTW, the screen grab in the header was from a loopy media campaign the Bradys did a few years back. The domain must have lapsed at some point, and now…well, now it's something in Japanese about exterminating ants with a flamethrower.