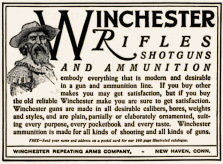 The ATF has long recognized that certain firearms fall into a category known as "curios and relics." As defined, this includes weapons that "are of special interest to collectors by reason of some quality other than is associated with firearms intended for sporting use or as offensive or defensive weapons." Most are firearms over 50 years old, or for which the value is historical rather than functional.
Collectors of curios and relics (C&R) can acquire a Type 3 FFL, which allows them to bypass some of the transfer requirements of the Gun Control Act and Brady Act. To the best of my knowledge (and please prove me wrong), Borchardt pistols and Clement carbines are hardly the preferred weapons of gang violence and mass shootings.
But folks in Washington state decided to do things their own way. Whether through haste or design, I-594 now makes it pointless to hold a C&R license there.
The background check requirement applies to all sales or transfers including, but not limited to, sales and transfers through a licensed dealer, at gun shows, online, and between unlicensed persons.
Type 3's aren't dealers, so they can't conduct background checks. As such, they'll need to have all transfers done through a Type 1 or 2 dealer. That pretty much invalidates the very point of a C&R license.
What about the federal rules exempting C&R weapons? There's no equivalent in I-594. The only exception for the background-check requirement is for guns defined as antiques, which are:
(…) a firearm or replica of a firearm not designed or redesigned for using rim fire or conventional center fire ignition with fixed ammunition and manufactured in or before 1898, including any matchlock, flintlock, percussion cap, or similar type of ignition system and also any firearm using fixed ammunition manufactured in or before 1898, for which ammunition is no longer manufactured in the United States and is not readily available in the ordinary channels of commercial trade.
That's, well…that's pretty much everything. There might be merit to a lawsuit challenging this conflict between federal and state law.
(Sorry, Crufflers: I hadn't considered this wrinkle before. I went back and checked last year's federal background-check bill. Its definitions would have presented the exact same problem.)