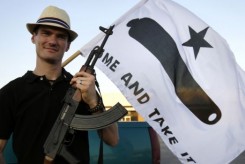 We all know who the NRA is, right? They've made a statement on the ludicrous practice of carrying rifles into public businesses as a form of "activism."
Let's not mince words, not only is it rare, it's downright weird and certainly not a practical way to go normally about your business while being prepared to defend yourself. To those who are not acquainted with the dubious practice of using public displays of firearms as a means to draw attention to oneself or one's cause, it can be downright scary. It makes folks who might normally be perfectly open-minded about firearms feel uncomfortable and question the motives of pro-gun advocates.
You may not know Charles Cotton. He's an NRA board member and Executive Director for the Texas State Rifle Association. Alice Tripp is one of the TSRA's lobbyists. These are the folks actually doing the work to get open carry legalized in Texas. They've told us that the antics of Open Carry Texas have jeopardized the chances of that passing in the next legislative session.
In short, people who know what they're doing and get things done want these ludicrous "demonstrations" to stop.
C.J. Grisham is the President of Open Carry Texas. His folks are the ones causing the problem. His reaction?
When you've got the TSRA and the NRA basically coming down on us for standing up for our rights, that's where our problem is, because now you guys are siding with Moms Demand Action.
Now he's doing the whole James Brown cape over the shoulder act and encouraging his members to cut up their NRA membership cards.
That should cost the NRA roughly 11 one-year memberships. That's a loss we can take. Grisham, Watkins, and the others need to be actively called out and shunned.
Several major businesses have chosen to disallow the carry of weapons on their premises in the wake of these rifle toting play dates. Our opponents have picked up on it and it's given them a strategy. They've realized they don't need to go through the legislative process to make life harder on us. They just need to go after private businesses.
All the while, Grisham and his little absolutists are making the argument for them. Who's really siding with Moms Demand Action?