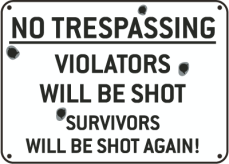 Self-defense statutes commonly known as "stand your ground" laws have come under a great deal of scrutiny the last couple of years. Though not a stand your ground case, the George Zimmerman situation was quoted as proof that Florida's law was unfairly biased against minorities. Michael Dunn's attempt to cite the law in his defense made things even worse.
Now we've got a case in Montana that critics are attempting to lump into the same category. The issue at hand doesn't involve stand your ground laws, which generally cover self-defense outside the home. Kaarma is claiming immunity under Montana's castle doctrine law, which covers the defense of home.
Castle doctrine is a much older legal theory, and one about which there's less controversy. It hinges on the idea that there are certain privileges and immunities regarding the use of force in defense of the home. However, Montana's law is quite clear that lethal force is only allowable to prevent an assault or forcible felony.
Laying a trap for someone and laying in wait to shoot them doesn't fit that bill.
According to the court filing [pdf], Kaarma had been a victim of prior break-ins. An exchange student named Diren Dede entered Kaarma's garage, and Kaarma fatally shot him.
What was Dede doing there? Well, Kaarma's wife left a purse in the garage, with the door left open. In and of itself, that casts Kaarma's motivation into question.
In addition, Kaarma made comments to responding officers that he didn't want the burglar to escape and that the police couldn't catch the burglar in the act. That's strike two, and it's eerily similar to George Zimmerman's "these punks always get away" utterance to 911 operators prior to the shooting of Trayvon Martin.
To worsen things, he'd made prior statements to a hairdresser that he was waiting up at night with a shotgun to catch and kill potential burglars. Whether or not he meant to, he tainted his defense, perhaps hopelessly.
He will likely claim that he made these statements under emotional stress and that he didn't mean them. Even if we assign some truth to that, there's an abject lesson here: after a shooting, make no statements to responding officers about motive.
Here's lesson number two: watch the chest-beating rhetoric. In a homicide case, prosecutors can and often will scour social media and other online communications. A track record of statements like "I don't dial 911, I dial 1911" and suggestions that certain people deserve to be punished with violence isn't going to play well for a jury.