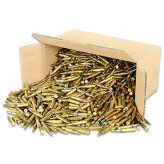 That title is a decent approximation of how inaccurately the current situation has been described to me.  It's 95% untrue.  The proposal at hand is not the result of legislation.  There is no executive order on the matter.  It is not a blanket ban on 5.56.  It only affects one specific loading.
Here's the short explanation.  The 1985 Law Enforcement Officers Protection Act (LEOPA) delegated authority to the Bureau of Alcohol, Tobacco, and Firearms (ATF) to decide whether certain ammunition could be banned from civilian ownership if it is deemed "armor piercing."  The criteria are quite specific:
A projectile or projectile core which may be used in a handgun and which is constructed entirely (excluding the presence of traces of other substances) from one or a combination of tungsten alloys, steel, iron, brass, bronze, beryllium copper, or depleted uranium; or 

A full jacketed projectile larger than .22 caliber designed and intended for use in a handgun and whose jacket has a weight of more than 25 percent of the total weight of the projectile.
Military M855/SS109 ammunition has long been exempted from that definition by name.  Last month, the ATF decided to change their minds on the matter.  Their report is here [pdf].
The first problem is, they're wrong.  The second problem is, it won't stop them.
File Under:
Civil Rights
,
M855
,
SS109
|
Comments Off

on The Obama Socialist Executive Ban on 5.56 Ammunition