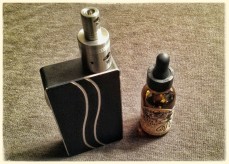 Vaporizers have come a long way over the last five years. In fact, they've seen a vast improvement over the last few months alone. A year ago, most power-regulated devices topped out at 11 watts or so, and they wouldn't fire atomizers with a resistance of less than 1Ω.
The alternative were so-called mechanical mods, which used no circuitry and drew power directly from the battery. I could build lower-resistance coils to cheat more output, but the quality (and quantity) of vapor tapered off as the battery wore down over the day.
Better chips have since been developed over the last few months. Several manufacturers began using the Evolv DNA30 and DNA40 chips early last year, and now companies like Sigelei are using the newer Yihi sx330 chip to generate higher output.
Yes, this thing can go up to 100 watts. No, I haven't run it that high. In fact, anything over 40 watts gets pretty overwhelming. But that's not the point.