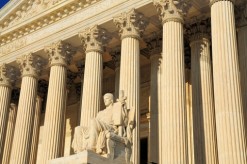 In response to their recent court loss in Palmer v. DC, the District of Columbia has drafted a law [pdf] allowing civilians to carry firearms. The city council is doing their best to flaunt the court order without veering into direct contempt, much as they did following the Heller decision.
Essentially, one might be able to get a permit to carry in the District, but the bill is structured in such a way as to make it virtually useless. Here are the major provisions:
Applicants must demonstrate "a good reason to fear injury" and "a special need for self-protection distinguishable from the general community." Applicants must provide documented evidence of their plight. Said evidence may not be enough to sway the issuing authorities, who can deny the existence of a special need on a whim.
Applicants have to complete a course certified by the Chief of Police that includes at least 16 hours of training. The course must cover "situational awareness, conflict management, and moral and ethical decisions on the use of deadly force." How much will something like that cost, and how many instructors are there in the District to conduct it?
The Chief of Police may limit "the geographic area, circumstances, or times of the day, week, month, or year in which the license is effective."
Licensees may not carry in the following places:
Any building owned or under the control of the District
Any public transportation vehicle, including the Metrorail transit system
Any public gathering or special event conducted on property open to the public that requires issuance of a permit from the District or federal government
Within 1,000 feet, or other lesser distance designated by the Chief or his or her designee, when a dignitary or high ranking official of the United States or a state, local, or foreign government is under the protection of the Metropolitan Police Department, or other law enforcement agency
Any prohibited circumstance that the Chief determines by rule
The first four provisions cover pretty much every part of the District. Just for good measure, that last provision grants the Chief the authority to ban carry in any other place by fiat.
This is clearly not what Judge Scullin intended, and it's indicative of a larger trend. We win in the courts, and the defendants comply as little as possible, forcing us to sue again. They hope to wear us down by attrition.