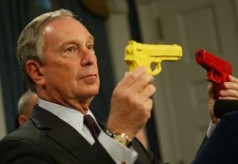 The press release is here. The filing itself is here [pdf].
Their argument is that I-594 is unconstitutional because it is too vague, both facially and as applied.
I-594, with its amendments to RCW 9.41 relating to non-commercial transfers of firearms, as well as Defendants' enforcement of the same, prohibit, substantially interfere with, inhibit access to, and infringe upon the right to possess firearms and thus infringe Plaintiffs' rights under the Second and Fourteenth Amendment of the U.S. Constitution as well as the rights in Article I, Section 24 of the Washington State Constitution.
Specific examples of infringement include the criminalization of  shared firearms in the same home, the impractical burden on firearms training, and the inability to retake possession of a gun previously loaned to another.
They point out that the Washington State Patrol will not be enforcing the law because they can't prove what is or isn't a transfer. Most sobering is this bit from the Washington Department of Fish and Wildlife:
On December 2, 2014, the Washington Department of Fish and Wildlife issued guidance on I-594 that it had formulated "in close consultation with our legal counsel in the Attorney General's Office." The guidance was focused on the Department's hunter education and stated, in part, that transfers between the Department's volunteer hunter education instructors and their students are exempt because the instructors are agents of the Department, which is in turn exempt as a law enforcement agency. The guidance goes on to note, however, that transfers between students would not be exempt, but that instructors could avoid liability under I-594 by engaging in a straw-man transfer by taking the firearm from one student and handing to to another.
The need for such an exception, and the roundabout way in which it must be exercised, should highlight the absurdity of this law better than anything else.