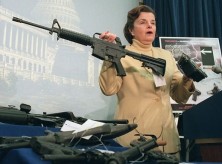 The gun-control lobby is attempting to use the San Bernardino shooting for political fodder.  The problem is that the incident occurred in California, a state they consider to be a model laboratory for gun restrictions.
They've chosen to sidestep that issue, and they're proposing a new solution:  bar anyone on a terrorist watchlist from owning firearms.  If we don't look too closely, it seems sensible.  It also makes for good soundbites about security.
In practice, it's a terrible idea, and it's something that should offend anyone interested in civil liberties.
Consider the "no fly" list.  One has no way of knowing …