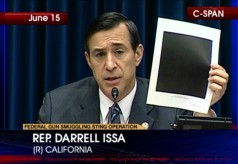 Special Agent John Dodson was on the ground during the initial stages of the ATF's botched Fast & Furious operation. When he came forward as a whistleblower, Arizona US Attorney Dennis Burke leaked an internal memo to the media in an attempt to discredit Dodson's testimony to Congress on the operation.
He has authored a book covering his experiences, but the Bureau is attempting to block publication. Their rationale is that it "would have a negative impact on morale in the Phoenix [Field Division] and would have a detrimental effect on our relationships with DEA and FBI."
Right. Because running over 2,000 guns to Mexican cartels, slandering agents who came forward, and lying to Congress did none of those things.