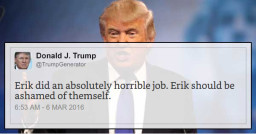 At this point, I can't see the math working out any other way.  Donald Trump is going to be the Republican nominee for President this fall.
That scares the living bejeezus out of me.  It should frighten any reasonable person.  Apparently, "reasonable person" excludes a large portion of the American electorate.
Let's be clear:  Donald Trump doesn't care about you.  He only cares about himself.  This is all a game to him, and one in which the most uncouth bully wins through sheer force of will.
The obvious retort is, "well, that's politics as usual."  It's not untrue, but this guy claims to represent a …