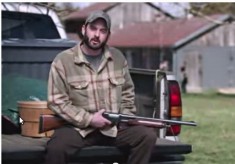 Frankly, I'm not surprised Mayor Bloomberg sank to this. I'm just surprised it took this long. He's running an advertisement urging Georgians to write their Senators in support of "comprehensive background checks."
If you're just tuning in, that's shorthand for "registration."
The problem is, if you're an urban Manhattanite who's never actually seen a person from Georgia, you might want to check with the locals before attempting to depict them. Remind your hired spokesmodel that pressed dress slacks don't really go with the flannel shirt and camo hat. You might also want to make sure he rehearses his southern accent so he doesn't sound like a bad parody.
You might also consider some firearms training, as your model has his finger on the trigger of that shotgun. He's likely to crank a round into the cameraman at stage left.
Of course, this isn't the first time the anti-gun lobby has done this.
A few years ago, there was a group called Hunters for Gun Control, who later morphed into the American Hunters and Shooters Association (AHSA). Claiming to be a "moderate" voice in the gun debate, they support many of the wish-list items on the gun control agenda.
AHSA shares a building with the Democrat Leadership Council and a PR firm known as DCS. DCS was originally run by John Rosenthal, founder of a Boston gun-control group called Stop Handgun Violence. He also served for a time on the board of directors for Handgun Control Inc, which later became the Brady Campaign.
Executive Director Robert Ricker has worked as a paid witness against gun companies in product-liability lawsuits. President Ray Schoenke donated $10,000 to HCI in 2000, and has made donations to the campaigns of Dianne Feinstein, Barbara Boxer, and Carolyn McCarthy. And so it goes.
Feinstein's renewal of the Assault Weapons Ban is effectively dead, and a law limiting magazine capacity is unlikely to gather 30 votes, much less 60. The one pillar left for the gun-control lobby is registration, and support for that seems to be wavering as well.
The fact that they're sinking to this is good news indeed.