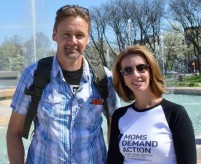 Everytown for Gun Safety is less than two weeks old, and it's already falling apart. Tom Ridge has announced his resignation, and he was supposed to be their star recruit.
I looked forward to a thoughtful and provocative discussion about the toll gun violence takes on Americans. After consultation with Everytown, I have decided that I am uncomfortable with their expected electoral work.
That's nothing new. He's not the first politician to be misled by Michael Bloomberg's recruitment speeches, nor the first to walk away in disgust.
Meanwhile, Everytown associate Shannon Watts has nothing better …