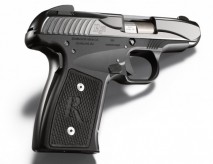 Of all the unlikely but cool things to resurrect, Remington is producing a new version of their Model 51. The original was a neat pistol with a unique "hesitation locked" blowback action designed by John Pedersen. That one was chambered in .380 Auto and .32 ACP and had a steel frame, while the new iteration will be chambered in 9mm.
To modern eyes, it may look like a hybrid of a VP70 and a Whitney Wolverine, but the 51 is a smaller, thinner gun, with a lighter trigger. It looks as if the grip panels are replaceable, which is a nice touch. Surprisingly, MSRP is $389, which should put it well under $350 on the open market.
While it's a bit on the small side, it's larger than some of the micro-9mm guns that are all the rage. That means it should actually be shootable. Looks like I just found my first gun for the new year.