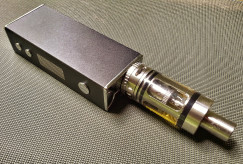 The FDA is soon expected to extend its authority to all tobacco products. They consider electronic cigarettes and vaping products to fall into that category, so we could be looking at serious trouble for manufacturers.
Currently, products introduced prior to February of 2007 are grandfathered in under the doctrine of substantial equivalence.  Anything introduced later would have to go through an expensive and difficult approval process.  The problem is, the vast majority of vaping products were introduced after that date.
Rep. Tom Cole has introduced a bill that would move the "substantial equivalence" date for FDA deeming from 2007 to 2015, with a 21-month extension period. That means all vapor products currently on the market would be grandfathered in, as would any introduced in the following 2 years.
It's not ideal by any reckoning.  I'd rather the FDA didn't classify these products as tobacco, but that looks inevitable.
CASAA is supporting it, and you can contact your representative through Popvox.