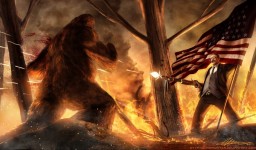 In 2008, the Supreme Court ruled that Washington D.C. could not ban the ownership of handguns. The city responded by passing the hysterically-named Firearms Registration Emergency Amendment Act [pdf]. It created as many hurdles as legally feasible for would-be gun owners. and it prohibited the carry of firearms outside the home.
Alan Gura brought this case in response to the ban on carry. The District Court did its best to ignore it for two years. In 2011 Chief Justice Roberts intervened and ordered Judge Scullin to hear it. Then it seemed to disappear again.
As such, it goes without saying that today's opinion [pdf] was unexpected. Cue the highlight reel:
In light of Heller, McDonald, and their progeny, there is no longer any basis on which this Court can conclude that the District of Columbia's total ban on the public carrying of ready-to-use handguns outside the home is constitutional under any level of scrutiny. Therefore, the Court finds that the District of Columbia's complete ban on the carrying of handguns in public is unconstitutional. [p .16]
That alone is a huge win for us, but the orders given are sweeping.
Accordingly, the Court grants Plaintiffs' motion for summary judgment and enjoins Defendants from enforcing the home limitations of D.C. Code § 7-2502.02(a)(4) and enforcing D.C. Code § 22-4504(a) unless and until such time as the District of Columbia adopts a licensing mechanism consistent with constitutional standards enabling people to exercise their Second Amendment right to bear arms.
The relevant authorities are permanently enjoined from enforcing the District's ban on new handgun registration, the ban on carry by residents, and the ban on carry by nonresidents.
With no licensing system in place, the District is pretty much Arizona in terms of carry at the moment (though I would not recommend carrying there). That should light a fire under someone's posterior to get a permitting process passed with all due haste. Given how they did their best to flaunt the Heller decision, I'd expect a ludicrously strict and arbitrary may-issue system, which will have to be challenged in a different lawsuit.
The District can appeal, but the DC Circuit are the folks who handed us the win in Parker. We could win again there, which would make the Supreme Court the next step.
This last bit is speculation, but I'll allow myself a bit of optimism. The Supreme Court has repeatedly refused to hear a case on carry outside the home. Many of us questioned their motive in this. Considering Roberts' involvement, it could be they were waiting to hear this case.